MotoBatt Batteries
PartsForScooters offers a wide variety of MotoBatt Brand Premium Powersports Batteries for everything from full-size scooters, mopeds, ATVs, dirt bikes, motorcycles and off-road vehicles. MotoBatt is famous for their 4 terminal batteries that facilitate flexible battery installation across a wide variety of powersports vehicles while maintaining an OE like fit. All MotoBatt Batteries come with a 2 year warranty!
We also offer MotoBatt brand battery chargers & maintainers!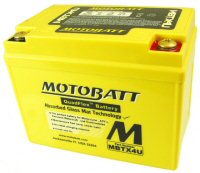 MotoBatt Quadflex Battery 12v 4ah
MotoBatt Quadflex Battery 12v 10ah
MotoBatt Quadflex Battery MBT12B4, 12v 12ah. Replaces Yuasa part number YT12B-4 and YT12B-BS.
Quick Links
Charts & Info
Can't Find A Part?
Join Us!