Scooter Wheels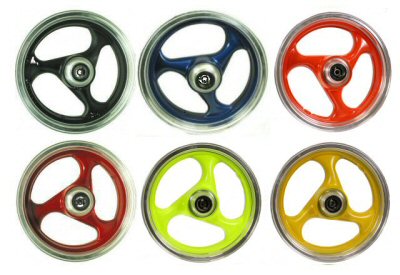 Scooter Wheels
At Parts For Scooters we carry scooter wheels in a variety of popular sizes to fit most 50cc to 150cc Chinese scooters. We have 10, 12 and 13 inch scooter wheels available with common specifications to many scooters on the market. When replacing the wheels on your scooter you're going to need a few other things to complete the job. We've got you covered there as well!
We have a variety of types of valve stems from basic pull through stems to bolt on aluminum valve stems and even anodized ones to match your scooter. We also carry many sizes of tires for your new scooter wheels from leading manufacturers, such as Kenda, Vee Rubber and Heidenau. We even carry white wall tires by Naidun if you prefer retro styling. Tire spoons and stick on wheel weights are also available to the do it yourselfer who is interested in mounting tires themselves to their new wheels. If you're searching for replacement scooter wheels and associated items, Parts For Scooters has it handled!
Scooter Wheels - Featured Items - View All »
Quick Links
Charts & Info
Can't Find A Part?
Join Us!