Shipping & Payment Info
International Shipping--see below
Most items are shipped the next business day from when the order was placed. We recommend FedEx shipping on all but the smallest parts due to weight based cost. Postal shipping is recommended for shipments to Puerto Rico, Mexico, Hawaii, Alaska, nearby islands, and FPO and APO addresses. Please note that postal shipments are covered up to $50.00 value against damage or loss in transit, however, FedEx shipments are covered up to the point of delivery for the full value of the parts.
Free Shipping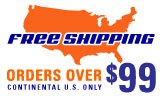 Partsforscooters.com offers Free Shipping for orders of in-stock parts over $99.00 shipped via FedEx Ground to the lower 48 states. This offer does not include Saturday, Holiday, Next Day, 2nd Day or 3rd Day delivery options. PartsForScooters.com reserves the right to select which carrier is used for the free shipping option. We do not cover fees associated with lift-gate or re-delivery fees for bulk orders that cannot be properly accommodated by the receiver.
FedEx Ground Transit Times
The time it takes for you to receive your package is the transit time. Transit times do not include the date of shipment and any other non-business days. For most shipments, the following map will show the approximate transit times for FedEx ground shipment. PartsForScooters.com is not liable for any exceptions to transit times applied by FedEx.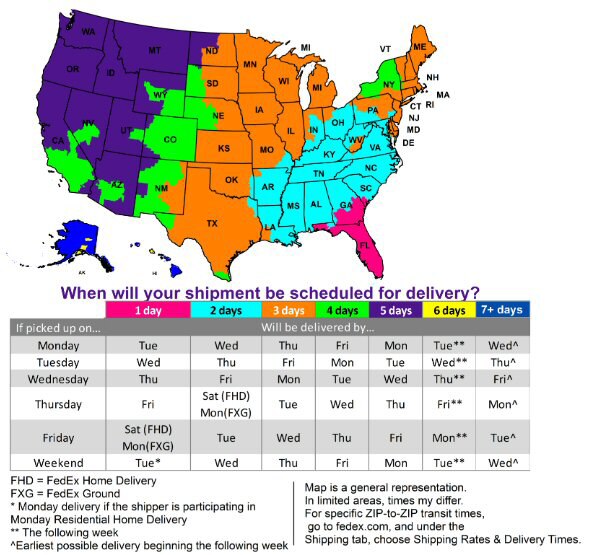 USPS Priority Transit Times
The time it takes for you receive your package is the transit time. Transit times do not include the date of shipment, Sundays or any official government holidays. For most shipments, the following map will show the approximate transit times for the United States Postal Service Priority shipping. We also offer USPS First Class mail for packages under 13 oz. which takes 7-10 business days and is not shown on the map below.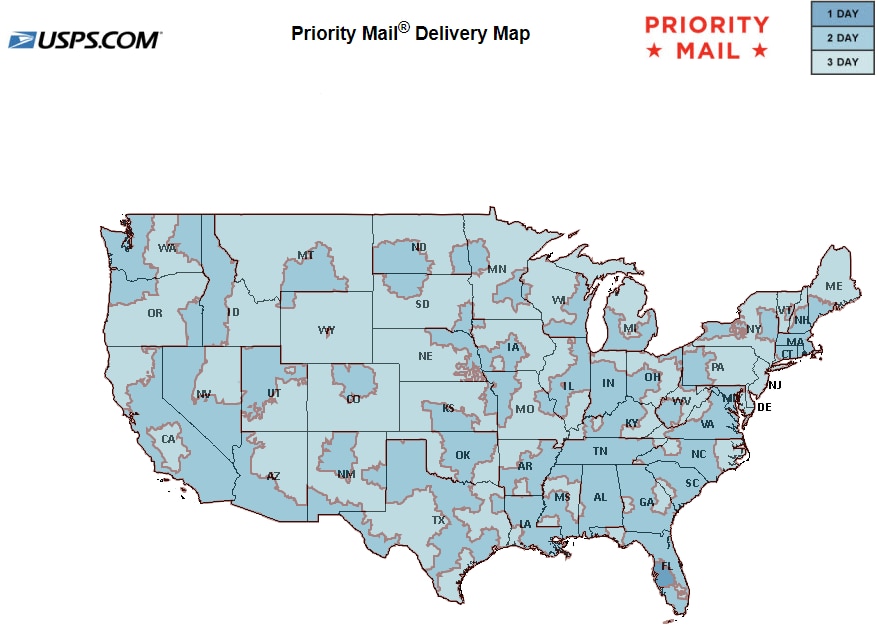 International Customers
Partsforscooters.com ships it's products to just about anywhere in the world. Please keep in mind that some countries outside the United States may not allow certain items into the country. It's the responsibility of the buyer to check with customs officials to determine if an item can enter their country. All international duties, taxes and shipping charges are the responsibility of the buyer. International freight is estimated during the checkout process. Should the freight be substantially different from the amount shown on your order confirmation, you will be notified prior to shipment for approval of any additional freight charges that may apply. Transit times to most countries range from 2-3 weeks. For further information and detailed transit times please contact our Customer Service Department at 1-727-347-1661. For international shipments payment must be made by a PayPal Verified User account, we do not accept credit cards for international payments.
Shipping Times
Provided all items ordered are in stock, most orders will ship out the same day if placed by 3:30 p.m. EST. Orders placed during the weekend or on a holiday should ship within 48 hours of the next business day. The time it takes your order to arrive, after shipping, depends on the shipping method selected, as well as the destination. FedEx Next Day, 2nd Day, & 3rd Day air shipments are based on the date the order is fulfilled, not the date the order was placed. All FedEx shipping times (FedEx ground, FedEx Next day, FedEx 2nd day, & FedEx 3rd day) are based on Monday - Friday business days only. Weekends and holidays are not included. To schedule a Saturday delivery, please contact our office directly at 1-866-478-8700. The ship time for US Postal Service Priority Mail is approximately 2-4 days after order is shipped depending on destination.
Please Note: All orders ship from our warehouse in Florida. Please notice the transit times on transit time maps above or refer to the FedEx or USPS websites.
Please Note: All orders refused at delivery for reasons other than Partsforscooters.com error will be subject to a chargeback of actual freight charges.
Dimensional Weight
Partsforscooters.com may be required to increase your shipping cost based on the dimensional weight of your order. Dimensional weight reflects package density, which is the amount of the space a package occupies in relation to its actual weight. Dimensional weight may apply to all FedEx and USPS domestic and international package services (i.e. bulky/large items may cost extra).
Back Orders
In the event an item is not in stock, you have the option to save on shipping cost by having the entire order shipped together once item is in stock, or we can ship items in stock immediately and ship back ordered items as soon as they arrive. Splitting up your order will result in additional shipping charges. Please inform Partsforscooters.com of your decision.
Taxes
Partsforscooters.com will not charge a sales tax for sales outside the state of Florida. However, the buyer is responsible for any customs or import duties levied on the ordered package.
Handling Fee
PartsForScooters.com charges a flat rate $1.00 handling charge on all orders.
Customs or Import Duties
You may be subject to import duties and taxes, which are levied once the package reaches your country. Additional charges for customs clearance must be borne by you; we have no control over these charges and cannot predict what they may be. Customs policies vary widely from country to country; you should contact your local customs office for further information. Additionally, when ordering from Partsforscooters.com, you are considered the importer of record and must comply with all laws and regulations of the country in which you are receiving the goods. Please be advised that your country may add a tariff or duty to the parcel because it contains a commercial invoice. The buyer is responsible for any and all additional destination tariffs.
Country Exclusions
Partsforscooters.com reserves the right to refuse international shipments at our discretion. In the likelihood that we are unable to ship to your country we will notify you immediately.
Payment
If billing and shipping addresses are within the United States or Canada, we will accept credit cards, Paypal or PayPal Credit payments. If you are paying by credit card and wish to ship to a different address from your billing address you will need to contact us for further verification of your identity. For international shipments payment must be made by a PayPal Verified User account, we do not accept credit cards for international payments.
Debit Card Transactions
If you are using a debit card, we hope you are familiar with the debit card user agreement. If not, be aware that debit cards do not operate the same as a credit card. Depending on your bank's debit card policy, it may appear that your account balance has been debited twice for your transaction. This is not the case; we obtain an authorization from your bank only for the exact amount of your purchase, and we do not actually charge your debit card until your order ships. ANY appearance of your account being debited twice is your financial institutions way of protecting itself. VISA and MasterCard require your bank to refund any possible 2nd hold on your account within 3 to 5 days.
International Payment
Any international order should have payment made via Paypal or bank wire transfer. International orders paid with a credit card will be sent back to the customer requesting a new, approved form of payment.
Contact
If you have any questions or need further information regarding our international shipments/policies, please do not hesitate to contact one of our customer service representatives at 1-727-347-1661 (US customers: 1-866-478-8700) (M-F 9:00 am – 6:00 pm EST) or you can send an email to support@partsforscooters.com

Quick Links
Charts & Info
Can't Find A Part?
Join Us!